Anybeam™ FX
New 1440nm Fractional Laser System for Skin Rejuvenation-

Anybeam™ FX minimizes damage to the skin but accelerates the rejuvenation of the dermis by using a special wavelength with optimum depth of penetration. It provides a new treatment, combining the strength of NAR(non-ablative rejuvenation) with that of common laser.

Anybeam™ FX irradiates the minimum laser energy using a truly randomized fractional scanner and derives collagen remodeling (degeneration and reassignment) through thermal diffusion in the papillary dermis, so that it can show excellent lifting and tightening effects. It is a new generation laser with wide range of applications including skin whitening as well as acne scar, pore size reduction, wrinkle reducing, improving skin texture, and stretch mark treatment.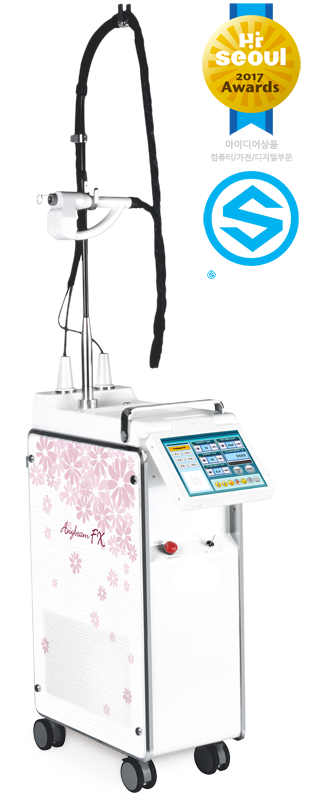 ▲ Anybeam™ FX
Major Product Features
1. Minimizing skin damage but maximizing the promoting collagen production with minimum energy.
With uniquely optimum penetration depth but minimum energy, the 1440nm laser has an exceptional effect in the papillary dermis and a painless surgical treatment is available with no-anesthesia or simple skin anesthesia.

2. Immediately return to daily life after an advanced comfortable painless surgery
There is little pain or skin damage even to the face and soft parts of the body. No messy gels are applied before the treatment and no further treatment is required after the treatment. You may wash your face or put on make-up the same day of the treatment and may resume your normal routine.

3. New concept, real-mode fractional scanning technology
Different from the former progressive scanning or similar fractional scanning, Anybeam™ FX laser adopts a Real-mode Fractional Scanning Method (truly randomized fractional scanning) to minimize skin burn or pain.

4. Both stamp and sliding mode available
As the Anybeam™ FX serves both as stamp mode and a sliding mode, a practitioner can conveniently perform an treatment by moving the scanner, even under laser irradiation if the affected part is wide.

5. Adjustable energy per pulse, pulse width, and energy density
You can easily not only adjust the energy per pulse and pulse width which used to be hardly adjustable with former equipment like diode pumping systems, but also adjust the energy density to the range of 1~20% within a single scan, making an individualized treatment dependent on different skin conditions available.

6. Avaliable changing the laser setting value maintaining a consistent energy level
Laser setting parameter(energy per pulse and/or pulse width) can be adjusted in detail while maintaining a consistent energy level, which is very convenient for a skin treatment.

7. Single or consecutive beam function
If a deep irradiation is required, three consecutive irradiations are possible in one spot by fractional scanner.

8. Easy maintenance
No consumable preparation such as gel or blue dye is required, so the treatment is simple and maintenance expenses can be reduced.

Specifications
Items
Specifications
Laser Type
Pulsed Nd:YAG
Wavelength
1440nm
Energy/Pulse
5~100mJ
Pulse Width
0.5~2ms Variable
Beam Delivery
Optic Fiber + Scanner
Scanner Model
SCANLAB palmSCAN
Aiming Beam
Red Diode Laser
AC Power
220~230VAC 50/60Hz
100~110VAC 50/60Hz(optional)
● Dimensions : 268mm x 553.5mm x 862mm(WDH)
● Weight : 50kg(110lbs.)
Expendable Items
| | |
| --- | --- |
| Items | Specifications |
| Scanner & Optic Fiber Assembly | - |
| Safety Goggles - Type 1(Glass type) | - |
※ The external view and/or specifications of the above products are subject to change without prior notice to improve quality.